Do you know how to code, you do graphics, make music, would you be able to come up with your own computer game? Then why wait, get a team together and try to make one in a weekend. The theme to work on will be announced at the beginning!
Bratislava Game Jam is a contest of coders, screenwriters, graphic designers, philosophers and illustrators whose task is to make a video game prototype in one weekend. Individuals and interdisciplinary teams will get a space to test their audacious game design along with their skills. The particular theme to work on will be revealed at the start of the event. It will take place online 10. 11. - 12. 11. 2023. Our jury will pick the best game at the end of the event.
Bratislava Game Jam 2023 is the eight year of our game jam.
Results of previous years: 2020, 2019, 2018, 2017, 2016, 2015
Basic Info
Every attendee needs a free BGJ23 ticket.
The games created during the jam will remain the intellectual property of their creators. The event organiser Mladý pes reserves the right to use the games for promotional purposes.
The main communication channel is our Discord.
There is no time reserved for matchmaking during BGJ23. If you look for a team, or team members, please use our Discord.
At BGJ23, we value experiment, innovative approaches and the joy of creation. Don't be affraid to try new things.
Prizes
Hlavná cena
Najlepší estetický zážitok
Cena zúčastnených
Rules
Teams are made beforehand, max. 4 people.
Each attendee must get a free BGJ23 ticket.
The topic will be announced in a live stream on the start of the jam.
Video games may be done for any platform or operating system.
A game is suitable for evaluation if it is at least in a form of a functioning prototype.
The created prototypes will be submitted to evaluation through itch.io. To submit a game, you first need to create an account there.
Only attendees with the free BGJ23 ticket will get a link to the private itch.io jam.
Venue
KULTURAMA
Račianska 22/A, Bratislava
The whole venue will be available exclusively for event participants, tables will be available for each team.
It will be possible to sleep on the premises, please bring your own inflatable matress or a sleeping bag.
There will be a room dedicated for sleeping.
There is unfortunately no shower at the venue.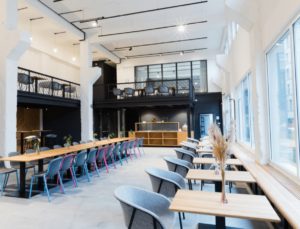 Programme
Friday, 10. 11. 2023

17:00 - 18:00
registration
18:00
opening, theme announcement, work starts

Saturday, 11. 11. 2023

00:00 - 24:00
working

Sunday 12. 11. 2023

17:00
end of BGJ23